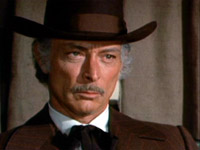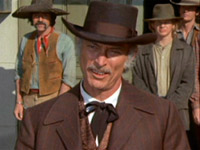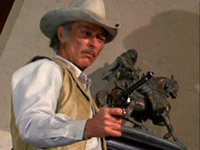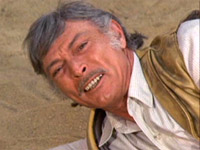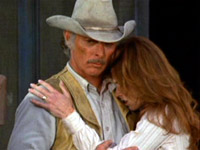 ---
1973 - 100 minutes - Western
Cast:
Lee Van Cleef..............................................Chris
Stefanie Powers.................................Laurie Gunn
Mariette Hartley............................................Arilla
Michael Callen...................................Noah Forbes
Pedro Armendariz Jr............................Pepe Carral
Director:
George McGowan
Synopsis:
In turn-of-the-century Arizona, Marshal Jim MacKay is rescued from an ambush by his old friend Chris, a fellow lawman. But when MacKay pleads with Chris to help defend the small Mexican town of Magdalena from constant Beige by.a gang of border outlaws, Chris refuses because of his reluctance to abandon either his own duties as Marshal of Sheridan or his new bride Arilla.
A short time later, Chris is wounded and Arilla is abducted during a bank robbery perpetrated by Shelly Donovan, a farm boy whom Arilla had persuaded Chris to release from jail for a second chance. Accompanied by his only ally Noah Forbes, a tenderfoot Eastern journalist writing a story about him -- Chris sets out after the renegade farm boy. Instead, he find's the raped and mutilated corpse of his wife. After killing two of Shelly's accomplices, Chris tracks. the boy to Magdalena, where MacKay and his men are awaiting another bandit attack. Learning that Shelly has already passed through the town, Chris; once again refuses to aid MacKay in order to pursue his quarry.
Although Chris returns to Magdalena when he learns Shelly has joined the bandits, he is too late: Every man in town has been massacred and all the women ravished. Discovering that MacKay killed Shelly before meeting his own death, Chris vows to avenge all the brutal slayings. With Noah still in tow, he goes to Tucson State Prison and promises official pardons to five convicts (Pepe Carral, Walt Drurumond, Scott Elliott, Skinner and Hayes) on two conditions: 1) they must obey his every command and 2) they.must forget.he was responsible for their sentences and not attempt to take his life.
Quickly establishing a friendly rapport with the widows and children of Magdalena, Chris and his six cohorts devise a plan which will provoke the bandits into launching an attack; they capture the bandit leader's (De Toro) woman. When the inevitable onslaught occurs, the bandits are routed, but of the "magnificent seven" only Chris, Noah and Skinner survive. With peace at last restored, the three heroes each select a bride from among the widows (Chris choosing the beautiful Laurie Gunn) and decide to settle down in Magdalena.