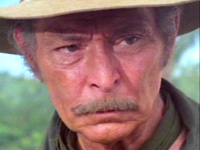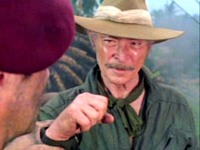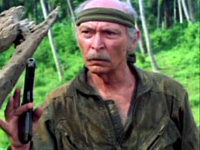 ---
click thumbnails below to enlarge

---
1984 - 102 minutes - Action
Cast:
Lewis Collins......................... ......Captain Wesley
Lee Van Cleef...........................................Travers
Ernest Borgnine.......................................Fletcher
Klaus Kinski............................................Charlton
Director:
Anthony M. Dawson (Antonio Margheriti)
Synopsis:
Hong Kong. Captain Hobin Wesley, an English mercenary, is introduced by his billionaire friend Brenner to Frank Fletcher of the international Drug Agency. Fletcher hires Wesley and his group unofficially, detailing them to destroy General Lao Khan's massive opium depot deep in the Thai jungle. Wesley insists that Archie "China" Travers, a brilliant helicopter pilot, be released from jail and allowed to join the mission.
Wesley's team enter Khan's territory and commandeer a helicopter. Travers flies them to the depot, which they blow up. During the raid, Wesley frees Khan's prisoners, including Kathy Robson, a Canadian journalist. Their helicopter is destroyed, and the group trek through the jungle, taking refuge with a Swiss missionary. Wesley learns that there is another giant opium depot, and that shipments are still being made from it. With his few remaining comrades, he blows up a train load of: opium and follows the railway back to the depot. Khan has meanwhile crucified, the missionary and massacred his congregation.
At the depot, Wesley confronts Charlton, Brenner's assistant, and accuses him of being involved with Kahn. Travers, Kathy and Wesley survive a battle, and manage to destroy the drug stores with a flame-thrower affixed to a helicopter. Back in Hong Kong, with the tacit approval of Fletcher, Wesley whose dead son had been a heroin addict, executes Brenner.