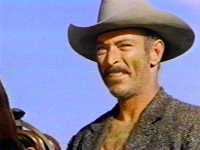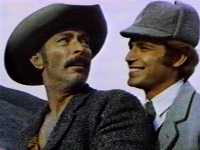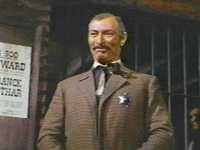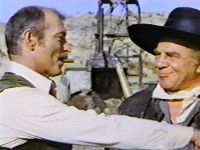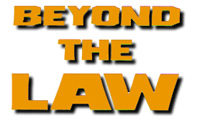 ---
1968 - 110 minutes - Western
Cast:
Lee Van Cleef...........................................Cudlip
Antonio Sabato.........................................Novak
Lionel Stander......................................Preacher
Director:
Giorgio Stegani
Synopsis:
Cudlip, a wanderer who travels in the West together with friend's Al and a strange type of preacher, carries out a robbery on a stagecoach, skillfully taking the bag which contains the pay for the mine workers of Silver Canyon.
Later on, Cudlip by chance meets Novak, the young mining technician who had been in charge of the bag, and immediately feels an instinctive sympathy for the distinguished and cultured man, who does not know the ways and customs of the West. Shortly after, he owes his life to him, when Novak saves him during a fight in the saloon. Meanwhile more money arrives for the miners. Cudlip, Al and the Preacher decide to carry out another coup, but when they are about to take possession of the loot, the coach is attacked by bandits, and the three men help to repel the attack. Cudlip is appointed sheriff of Silver Canyon for his good deed.
One day a load of silver extracted from the mine is ready for shipment, when the bandits led by Burton attack. The meeting is bloody, but finally Cudlip and his friends manage to get the best of Burton. Being in charge of the camp, the Al and the Preacher would like to take the silver, but Novak opposes them, saying that he will defend the silver at the cost of his own life. Cudlip is obliged to choose between his two old companions and his new friend. Once more the law wins and Cudlip is obliged to kill Al and the Preacher.